TallCast #1: Die Another Day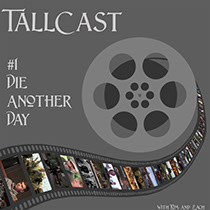 In the first episode of TallCast, Tom and Zach introduce themselves and discuss the 'romantic' exploits of James Bond as he puns his way into womens' hearts, or at least their beds. They also discuss rebreathers, invisible cars, and the fall of the 24 hour news network.
A show about science, technology, pop culture, and most of all film.
Each episode, Tom and Zach discuss, criticize, and evaluate a new film.