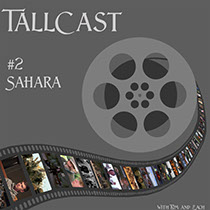 The second episode of TallCast comes to you from the great outdoors, where Tom and Zach discuss Sahara. They also discuss hoverboards, Tesla, video games, the perils of nostalgia, and Zach's quest to rediscover an elusive memory from his childhood. Not even catastrophic hard drive failure can stop this podcast.
A show about science, technology, pop culture, and most of all film.
Each episode, Tom and Zach discuss, criticize, and evaluate a new film.